After paying for your order, you should contact the respective seller on KChat to proceed with your order. You can click on the chatbox to start chatting with the seller.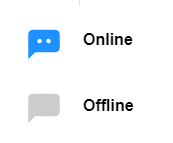 Additional info: A BLUE dialogue box means that the seller is online, a GREY dialogue box means that they are offline.

Please note that in some cases the seller might not be able to respond to you immediately due to various reasons. We advise checking for the seller's availability before placing an order by contacting the seller.