What is the KALEOZ Premium Seller Programme?
KALEOZ exclusively selects premium sellers in recognition of their outstanding sales and customer service. As a Premium Seller, you will be identified by the "Premium Seller" badge, which will be displayed on your store and on all of your listed products.
What are the benefits of being a KALEOZ Premium Seller?
You will receive a Premium Seller badge that decorates your username. It will be shown on your store and all product listings to help you stand out!
Improve the visibility of your product listings with the premium seller badge to boost shop exposure and increase conversion rate.
Exclusive access to certain product listings.
What happens if I no longer meet the Premium Seller requirement after getting my Premium Seller status?
If a Premium Seller fails to meet certain requirements for three (3) consecutive months, then their Premium Seller status will be removed. Therefore, sellers will have to maintain their performance and activity in order to continue enjoying the benefits of a Premium Seller.
Terms and Conditions:
1. Qualifications and requirements

• You are required to meet these requirements to be eligible as a Premium Seller • Have a valid KALEOZ account that's been active for at least 60 days.

• At least RM5000 sales per month.

• Maintain a positive feedback score of 97% or higher. • Maintain 85% of the order success rate.2. During the evaluation process, there is a product verification procedure, and you're required to provide:

• Product transaction details, sources, and payment methods in the form of videos or screenshots

• Product top-up or recharge channel/website/merchant

3. Deposit

• You are required to pay RM500 (or other currency equivalent to) as a deposit when you have passed the Premium Seller evaluation.

• This deposit is refundable. You can submit a deposit refund request on the Premium Seller page. Once your application is approved, the deposit will be refunded to your KALEOZ account balance within 90 working days.• KALEOZ reserves the right to investigate any sellers suspected of violating rules and usage regulations. If a seller is found to have violated any rules, their account balance will be frozen indefinitely along with the deposit.

4. KALEOZ reserves the right to change or modify any of the terms and conditions at any time without prior notice.
How do I become a premium seller?
Step 1: Submit Application
You can apply on Premium Seller Page. After applying, you will receive a notification regarding your application within 7 working days.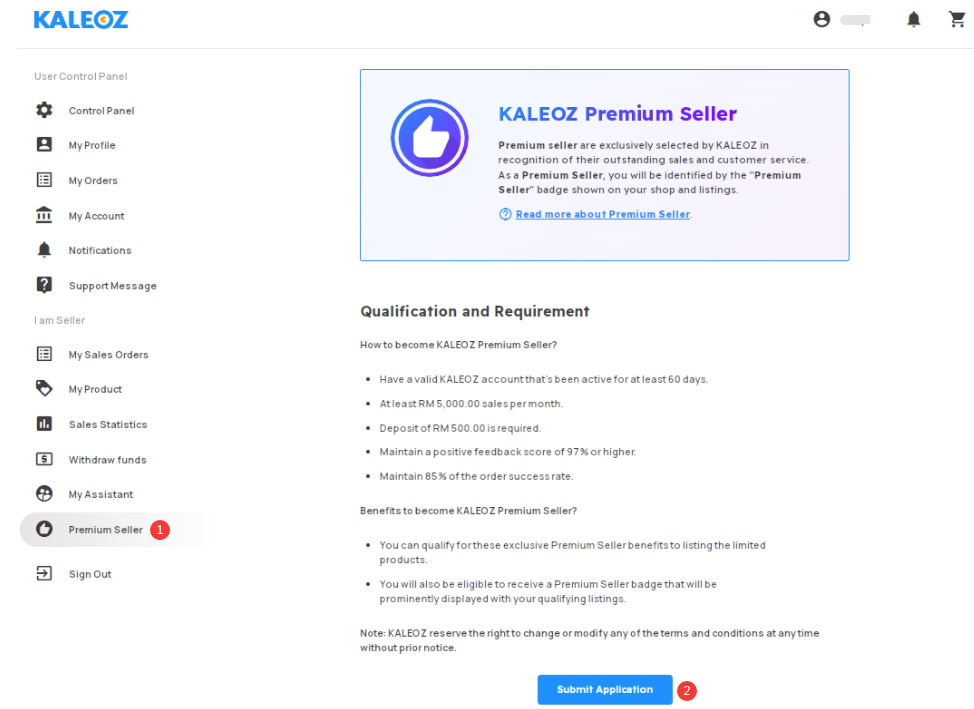 Step 2: Pay Deposit
When your Premium Seller application is approved, you can proceed to the next step and pay the deposit on the Premium Seller Page. Only KALEOZ balance is available for payment, so please make sure your KALEOZ balance is sufficient.